Parents Lounge – Royal Aberdeen Children's Hospital
A place to relax, get some much-needed downtime and refuel is never more important than in a hospital that hosts thousands of families every year.
Working with The ARCHIE Foundation and Royal Aberdeen Children's Hospital, this space was created with the parents/families/carers of children in treatment firmly in mind. With a comfortable coffee shop vibe it was essential to balance practical issues of working in the hospital with a space that feels like it is far away from the wards, clinics and waiting rooms.
Client:
The Archie Foundation
Location:
Royal Aberdeen Children's Hospital
Services:
Architecture, Interiors, Project Management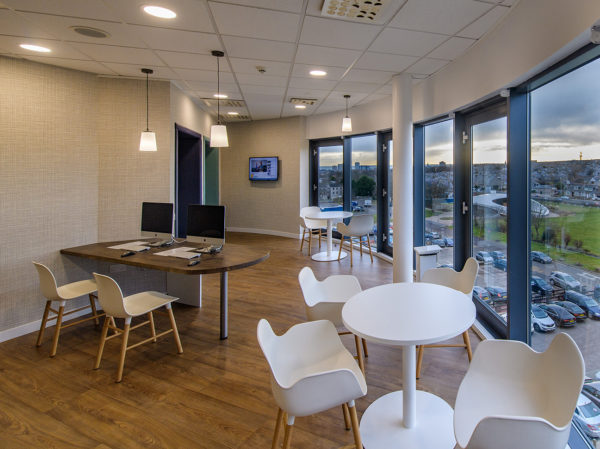 Making best use of this space was top priority – we wanted to ensure that anyone using it had everything they could need and would get maximum benefit. For us, that meant balancing practical and relaxing aspects – café style interior, table seating, side benches, vending machines and some highly useful appliances.
Kitted out with computers, charging sockets, TV and microwave – this Parents Lounge is a comfortable, calm and practical refuge for parents and carers that offers panoramic views over the city of Aberdeen. We hope it helps people recharge in times of tiredness and gives them a vital boost for when they return to their children's side.
Happy Teams, Better Work
Are you considering improving your work space? Looking to design an office that promotes health and wellbeing?
Lets Talk