Crafting a Unique Experience — Q&A with Hollie, Managing Director for Shape Shifters UK

Team TINTO are currently working with Shape Shifters UK on a truly singular new venue experience in Aberdeen city centre — blending tantalising cocktails with intriguing escape game challenges.
We caught up briefly with Managing Director and Co-Founder Hollie Kelly for her story so far, what they needed in a space and what made TINTO the right choice.
---
Hi Hollie! Can you tell us a little bit about your background and how Shape Shifters came about?
Hello! I'm Hollie Kelly, I'm one of the Managing Directors for Shape Shifters UK.

This business is really a culmination of lots of ideas and years of experience that my husband and I have enjoyed in leisure, entertainment and hospitality. My background is a little different, I went to university to study genetics — and now here I am, running a hospitality business!

After academia, I moved into running an adventure activity business — paintballing etc. — and we ran that business for a number of years. Whilst doing so, we were looking for something to complement it. That's when we discovered escape games.

We were actually one of the first four companies to bring these kinds of games to the UK, and we opened in Aberdeen in 2015. We just got into the market at exactly the right time, and it really grew. We actually later sold that business but it's still running now under somebody else's stewardship. So, escape games have been a big part of what we've done, and continue to do — we build the escape rooms ourselves, design it all ourselves and have a very talented in-house team.

My husband and I were planning to move to New Zealand — sold the house, booked flights — and then COVID hit. When we got over the initial panic, we realised we were going to be here for a little longer than anticipated and we managed to pivot some of our businesses to the online space, to be avatar-based — meaning people could log in via Zoom and enjoy the games with one of our staff there in the room, fitted with a chest-rig camera to give the customer their perspective.

In addition to this, during lockdown we also uncovered some exciting opportunities we could pursue around mixology and cocktails. We've always been passionate about the detail and delivering something exceptional in terms of customer experience. The two of us reflected on it, and we really couldn't think of anywhere in Aberdeen where you could go for that kind of 'hosted' drinks experience. It sparked our imagination.

So, we started researching, had some great conversations with people who we're now collaborating with, and that's where the idea began. Coming out of lockdown, we decided we weren't going to move away after all and we really wanted to push forward with this concept here in Aberdeen — bringing together an exceptional, tactile drinks-based experience, partnered with our escape games experience.

And so — Shape Shifters was born!


Were there any absolute 'deal breakers' in terms of the space you wanted to use for Shape Shifters and the experience you want to deliver for customers?
Size was a big factor for us, because one thing that we have seen in our experience with the escape games industry is an evolution in terms of the space needed for rooms and experiences. When we started, you could open a room in a relatively small space, now we're looking at multi-chambered experiences, where people move between different areas and it's a proper journey when you're inside one of these rooms.

Another thing we thought a lot about was how we'd combine these two experiences and the importance of having a venue that was flexible enough to cater to different people. Some customers will come for both, and some will only come for a cocktail and not play the game (or vice versa), so we absolutely needed a space that would allow us to fully satisfy all kinds of customers and ensure they have a scintillating time when they visit Shape Shifters.




When you were doing your homework on architects and interior design companies to work with, what made TINTO stand out?
I'm a believer in doing loads of research, and so we looked at lots of different companies before making a decision. The one thing we felt TINTO offered was a real understanding of this particular market. Of course, they work all over the country and further afield — but they know this region of Scotland and that really appealed to us.
There were a couple of projects that really stood out, and it's that detail and depth of design that TINTO brings that we felt was valuable to us and this project as a whole.

At the time we were researching, the Vovem restaurant had just been completed and the TINTO socials were sharing new images from it. I loved the richness of design they achieved with that project, and we felt we wanted some of that delivered in the look and feel of Shape Shifters.




Has there been anything major that's changed as the design process for Shape Shifters has progressed?
This is where we're probably quite boring actually! We came in with quite a defined idea of the concept. Because the lockdown situation had gifted us with time to spare, we'd had a chance to explore lots of different design concepts in bar venues, and we'd picked some key features that we thought were quite fun and that might work in our space.

So, we were able to come to TINTO with quite a defined concept, and from there we were able to say "Look, we trust you guys — here's our moodboard. Have a look, draw some inspiration and come back to us." In that way, I feel like the process happened really naturally.


What aspects of Shape Shifters are you most excited about?
I'm really excited about the way the space will change and how it will transition. I'm especially intrigued to hear our customers' perspective, because we've made some quite creative choices with lighting and a lot of that won't have been captured in the lovely renders because subtleties with lights are quite difficult to capture with digital tools like that and we only have one version of the space depicted in that video.

So we'll have lots of clever lighting changes at our disposal, and… well, I don't want to give too much away!
Let's just say there's some neat features that can move around the space, so that hopefully if you come and visit us at different times or for different events it'll feel like a different space each time. I'm really excited to see how that actually comes to life when the big day comes.


Follow us on Instagram, Facebook and LinkedIn for the latest project updates, Q&As, news and architecture inspiration.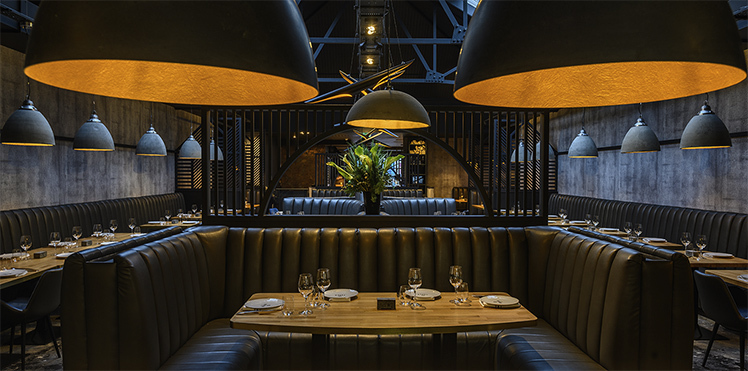 A Place for Happy Customers
We specialise in crafting memorable spaces for bars, restaurants, leisure facilities, hotels and shops.
Let's Talk